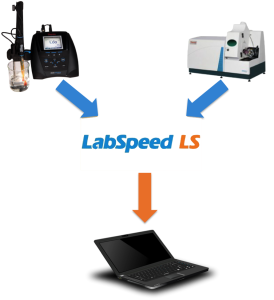 Developed by Topos Technologies, Inc., LabSpeed LS (Life Science) is an affordable way to capture, organize and analyze the data from all of your laboratory instruments.
LabSpeed LS is a great solution for your laboratory's raw data capture needs. LabSpeed LS obviates bulky and expensive paper printouts and removes human error from data recording via real-time data capture. LabSpeed LS is a Windows-only data management system capable of working with numerous instruments and databases via secure Add-Ins. The proprietary Add-Ins gather data stored in almost all formats, from .CSV files to sophisticated relational databases.
Lab-Speed LS creates an easy-to-navigate centralized platform for all of your instruments regardless of type or complexity allowing you to coordinate research, data acquisition and analysis. LabSpeed LS can be integrated with ELNs like CERF and RSpace so that verbose data can be annotated and appended to human readable descriptions of your daily workflows and activities, bringing rich contextual meaning to otherwise non-descript data files and making secure collaboration much easier. With LabSpeed LS, the user can interact with the raw data in its native form to monitor processes, check limits, create charts and generate reports. The seamless integration of LabSpeed LS with your instruments also allows users to browse and select samples, mine data, perform visual analytics, check limits and perform on the spot quality control.
LabSpeed LS also offers automated export and print options greatly reducing the necessary work hours for any given project. LabSpeed LS allows any level of laboratory personnel to output professional and polished material in no time.
User Licenses and Pricing:
LabSpeed LS is sold on a per-computer license basis. Multiple users can access a single instance of LabSpeed LS on a given computer. Discounts are available for volume purchases and site installs. The initial purchase includes twelve months of software updates and support. After the first year, users can purchase an annual maintenance plan at 18% of the original base purchase price. This includes continued support and minor upgrades to the software.
Features: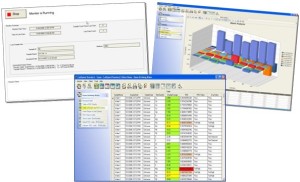 Modular design
Unlimited client installs
End-user customization
Templates for research grids, tables, charts, etc.
Easy data transformation and calculation
Unique reporting engine with drag and drop actions
Statistical process control charts
Paper-saving reporting
21 CRF 11 compliant
And more
Database Support
Microsoft SQL® Server 97, 2000, 2005, Express
Microsoft Access®
Oracle®
DBase® II, III, IV
MySQL
And Others
Supported Instruments
LabSpeed LS supports the following instruments exclusively developed for use in the Life Sciences*:
LabSpeed LS 5.8 for Softmax Pro
Molecular Devices
SpectraMax Microplate readers from molecular devices
LabSpeed LS 5.7 Supports:
VWR International
Ion Signature Technology
Mass Deconvolution Software
Spectro Analytical Instruments
Arcos (ICP)
Genesis (ICP)
Thermo Fisher Scientific
iCAP 6000 Series (ICP)
IRIS Intrepid (ICP)
PlasmaLab VG Series (Mass Spec)
PlasmaLab X Series (Mass Spec)
Star Meter Series (pH, ISE, Cond, DO)
Latest Add-Ins:
Agilent Chemstation GC Mass Spectrometer
BioTek Gen5
Carolina Liquid Chemistry Biolis 24i
Hycor Hytec 288 Plus
Molecular Devices Softmax Pro 6.3
Molecular Devices Softmax Pro 6.3 GxP
Shimadzu LabSolutions LCMS Mass Spectrometer
YSI 2700
*If you do not see your instrument on the list, please contact us; we welcome the opportunity to quickly develop an Add-In for any instrument in your lab.
LabSpeed LS Operating System Requirements
Microsoft ® Windows XP, Vista, Windows 7; 32 and 64bit versions
1024 x 768 minimum screen resolution (1280 x 1024 is recommended)
1GB RAM, 1 Ghz Pentium processor or faster (recommended)