RSpace ELN API allows countless options for handling your data
The RSpace team is pretty good at connecting our solution to other software tools you already use, but it's not possible for us to anticipate ALL of the many ways you might use the data you collect in RSpace. To help you connect RSpace to anything you like, we want to tell you about our flexible, modern ELN API (Application Program Interface).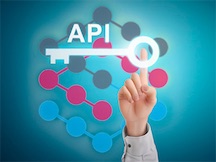 We believe our easy-to-use ELN API is the key to flexible and extensible integration with your overall data strategy and specialized workflows. RSpace makes it easy for anyone in your lab with a little coding knowledge to invent great new ways to extend the functionality of the product, limited only by their own creativity.
To get started, go to My RSpace > My Profile and click "Regenerate key".

Click on the ELN API documentation link, then click "Authorize" in the top right of the swagger page, and enter your new API key. Click "Documents", "Files" or "Miscellaneous" at the bottom of the page to see full instructions and code examples for working with the ELN API.
For more details, check our recent blog article. If you want to contribute your ideas to this project you might also look at the RSpace github page here.
As always, if you have feedback or suggestions, don't forget to click the RSpace help button at the bottom right of the RSpace interface!
It looks like this >>

---