eCAT is a robust and flexible inventory and sample tracking system developed by ResearchSpace in Edinburgh, UK.
eCAT was originally designed as an Electronic Lab Notebook (ELN), sample tracking system and lightweight Laboratory Information System (LIMS), but future versions of eCAT will focus only on its powerful and revolutionary sample tracking and inventory control features. The Notebook and document management functions of eCAT have been separated out into a much more scalable and powerful ELN system called RSpace. eCAT uses an intuitive browser-based interface to provide convenient and secure access to your samples from anywhere and can be used with either a traditional computer or a mobile device.
eCAT can be used as a stand-alone sample tracking system, but also offers seamless integration with your cloud or onsite deployment of RSpace. Together, the two systems provide a total lab management system that is simple and usable, but still gives researchers and their principle investigator (PI) unrivaled awareness of lab activities, workflows, sample locations and experiment status.
Scientists work with many different sorts of materials, so flexibility is key in a modern sample tracking system. This is accomplished in eCAT through the use of customizable templates allowing for the description and control of any type of sample, as well as the capture of location / container specific

metadata. Track samples or aliquots as they proceed through their life cycle in the lab, see relationships between parent samples and daughter aliquots and combine or separate samples on the convenient virtual workbench. Create labels with the built-in barcoding technology and understand the full usage history of everything in your lab. Use mobile devices to check samples in or out, add photos of samples and storage containers, and create interactive hotspots on top of images to show precise location of samples, containers, storage areas and equipment. Users can also add samples in bulk or individually, and import or export data using .csv files. eCAT even provides notifications for common occurrences such as expiry, freeze-thaw counts, low quantity, etc. Easy to learn and easy to implement, eCAT is a powerful tool for bringing order, collaboration and chain-of-custody awareness to sample management in your lab, for a fraction of the price of bloated LIMS products you may have struggled with in the past.
User Licenses and Pricing*
eCAT is priced by annual subscription based on the number of users to either an install or Team Hosted version. The install version provides a permanent license without a record limit. Users of the install version can also purchase annual support and upgrades. The Team Hosted version requires in initial purchase price based on the number of users and annual renewal with a limited number of records based on the number of users. Each user license is reusable; if someone leaves your workforce his or her user license can be reassigned to another user. Further training packages can be purchased as needed. Academic and not-for-profit institutions can get either install at a reduced price. Substantial discounts are available when eCAT is deployed in conjunction with the RSpace ELN system, sold separately.
*UK customers have to pay VAT at 20% unless the purchase is zero-rated. Zero-rated certification must be uploaded during the purchase process. EU customers have to pay VAT at 20% unless the purchaser is VAT-registered. The VAT registration number must be uploaded during the purchase process.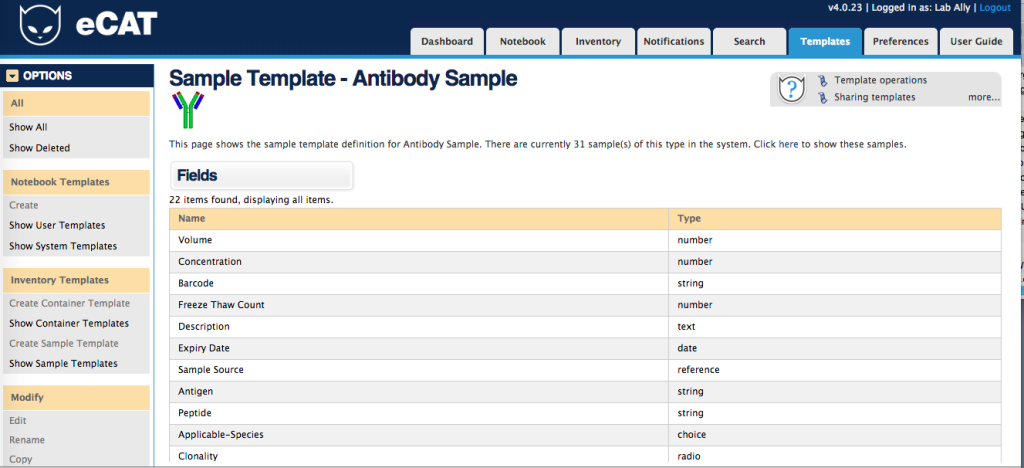 Features
Securely and efficiently create, import and share research data.
Integrated notification and messaging system to keep everyone coordinated within your lab.
Flexible interface allows you to create custom data forms, import Microsoft Office documents, images, videos and even link to external HTML material as needed.
Easy exporting in .xml, .csv, excel or PDF formats.
Controlled privacy setting, sharing, and peer-editing capabilities.
Intuitive records tree with powerful search, sharing, authorizing, signing, and witnessing capabilities, as well as complete audit trails to create an organized and secure system.
Easy to use sample and aliquot inventory systems with drag and drop, multi-action, and reporting capabilities.
Bulk entry and editing capabilities.
Customizable containers to precisely track any sort of material from lab equipment to single aliquots.
Built in notification capabilities for common lab issues such as expiry dates, freeze thaw cycles, etc.
Twenty of the most common sample template already built-in, with the ability to customize and add whatever other template you need.
Generate, print and scan barcodes and labels for all items in your inventory from aliquots to storage facilities.
Available anytime and anywhere via secure interface with traditional computers as well as mobile devices like the iPad and iPhone.
Secure on many levels from login to sharing to permissions to data back up.
Replete with helpful videos and guides so even a novice can become a power user in no time.
Complete directions for eCAT's sample tracking functions can be downloaded here.
Contact us for a free webcast demo or to request access to the eCAT trial version.
click here to download a PDF version of this page