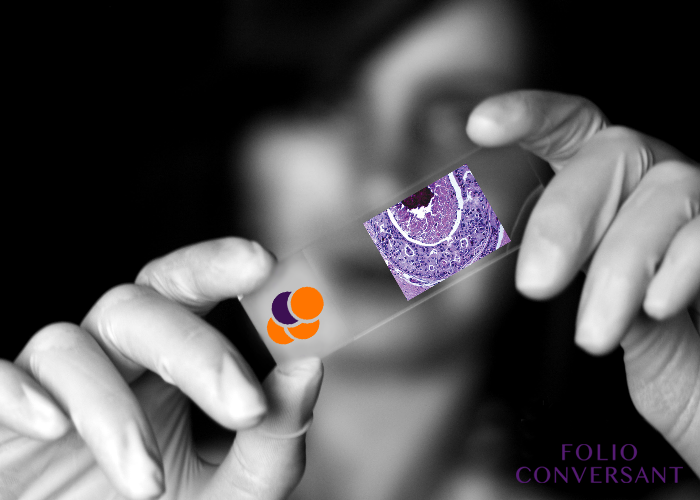 Biospecimen Procurement
Our on-site biobank maintained by Folio Conversant (formerly, Folio Biosciences) is the most trusted source of clinical biospecimens for the scientific community, providing easy and affordable access to high quality samples for the advancement of biomedical research. Folio Conversant, formed by the merger of 2 industry leaders, Folio Biosciences and Conversant Bio, is an unparalleled tissue procurement service. Folio's collection includes millions of samples of US-based biospecimens representing oncology, autoimmune and neurological indications, with good follow-up data potential and outstanding ability to assemble study-specific, criteria-matched cohorts that are ideal for immunohistochemistry, FISH, ISH or omics studies.
To increase throughput and improve reproducibility, tissue microarrays can contain hundreds of samples within a single microscope slide. These TMAs are produced using a standardized process that assures consistent results from one slide to another with a prolonged shelf life. Each TMA is built from tissue samples collected according to the most strict ethical guidelines, and is accompanied by a layout listing vital tissue pathology information and donor demographics.
When research needs cannot be met through the existing collections, we can provide custom procurement and preparation services through an extensive procurement network and on-site CLIA-certified laboratory.
All specimens receive complete and stringent QC checks by in-house pathologists and come with a no quibble warranty, ensuring that what you receive will exactly match your specific inclusion and exclusion criteria. No wonder, then, that Folio is the preferred vendor and research partner for some of the largest pharma companies in the world.
For more information, or to schedule a discussion about your FFPE sample or other human biospecimen needs, contact us or call: US (614) 407-4547.